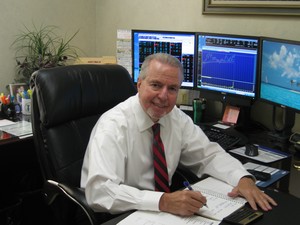 Peter W.
DeGiralamo, CFP®
Executive Vice President
After more than 25 successful years with legacy firms AG Edwards & Sons, Wachovia Securities and then Wells Fargo Advisors, Peter joins the team at Bridgehaven Financial Advisors as Executive Vice President and Senior Financial Advisor. The transition to Bridgehaven Financial Advisors was an easy one for Peter and his existing clients since the firm continues to be associated with Wells Fargo Advisors Financial Network.
Early in his career as a financial advisor, Peter successfully satisfied all requirements of the Certified Financial Planner Board of Standards. With this, Peter has earned his CFP® (CERTIFIED FINANCIAL PLANNERTM) certification. As a CFP® professional, one must abide by the Board's Code of Ethics and Professional Responsibility in all aspects of client finances. This privilege has been maintained with ongoing continuous education throughout Peter's career. The CFP Board adopted the Code of Ethics to establish the following Seven Principles and Standards which provide a source of guidance for Peter and other certificants:
Principle 1 :  Integrity - Provide professional services with integrity.
Principle 2 :  Objectivity - Provide professional services objectively.
Principle 3 :  Competence - Maintain the knowledge and skill necessary to provide professional services competently.
Principle 4 :  Fairness - Be fair and reasonable in all professional relationships. Disclose conflicts of interest.
Principle 5 :  Confidentiality - Protect the confidentiality of all client information.
Principle 6 :  Professionalism - Act in a manner that demonstrates exemplary professional conduct.
Principle 7 :  Diligence - Provide professional services diligently.
 
Peter attained the degree Bachelor of Science-Engineering and later a Masters of Business Management from the City University of New York. Between degrees, he achieved the designation Professional Engineer from the State of New Jersey. Peter melds a unique blend of his science, financial and professional background in all dealings with clients.
After raising three children to adulthood, Peter and his wife Emma have been rewarded with their first grandchild, Dominic. Peter hopes that his grandson will develop his passion for golf.