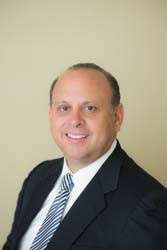 Peter graduated from Seton Hall University, located in South Orange, New Jersey in 1989 with a Bachelor of Science in Finance.  Peter then began his finance career at Bank Brussels Lambert, in New York.  As Vice President of Risk Management, he was responsible for strategic proprietary foreign currency trading and managing the Foreign Exchange desk.  Peter then joined the Capital Markets team for the bank and was responsible for trading currency futures and options, interest rate swaps, derivatives and emerging market products.  After ten years in banking and trading, Peter's career focus changed and he joined Smith Barney as a Financial Advisor in 1999. 
In 2004, Peter realized the importance of a team approach and in the best interest of his clients, merged his practice with his colleague Michael Kotarski.  Peter and Michael felt their personalities and areas of focus would complement each other for the benefit of their clients.  At Smith Barney, Peter attained the Financial Planning Specialist designation through education and testing.  He was asked to be the Smith Barney Asset Management branch liaison to help support Consulting Group professional money management services.  Peter was also proud to initiate the practice of working with local universities to support the hiring of interns within the branches at Smith Barney.  A number of his interns were offered full-time positions and continue to work at Smith Barney today.
In 2006, Peter and Michael embarked on an association with Wachovia Securities Financial Network, LLC to create an independent financial advisory practice named Bridgehaven Financial Advisors.  Due to the acquisition of Wachovia Corporation by Wells Fargo & Company in December of 2008, Wachovia Securities Financial Network, LLC eventually changed to Wells Fargo Advisors Financial Network, LLC. Bridgehaven Financial Advisors currently serves high net worth individuals, small business owners and corporations with a mission to add value by providing unparalleled service and advice.
As President and Branch Manager of Bridgehaven Financial Advisors, Peter is responsible for managing the business relationship with Wells Fargo Advisors Financial Network and is also responsible for the compliance requirements of the practice.  In addition, Peter maintains a consultative approach and long-term vision as he builds deep relationships with his clients and their families.  Peter's focus includes adding value in the areas of investment planning, retirement planning, education funding, equity strategy, professional money management, annuities, alternative investments and providing access to lending services through Wells Fargo affiliates. Peter has passed Series 3, 7, 9, 10, 63, and 65 securities registration exams.  He is licensed as an insurance professional with experience in Life, Health, Disability and Long Term Care insurance*. Peter continues to further his education and is studying for his Chartered Financial Consultant® (ChFC®) professional designation from The American College.
Peter enjoys spending time with his wife Caterina and his three children, Frank, Christina and Michael.  If time permits, you may also find Peter playing a round of golf on the weekends.