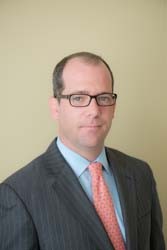 Gregory J.
Marsh
Corporate Retirement Plan Consultant
Vice President
Greg graduated in 1997 from American University in Washington D.C. with a Bachelor of Science in Finance.  Pursuing his interest in finance, Greg joined a wealth advisory team with Smith Barney in New York City.  As his team grew, Greg focused on retirement planning for their corporate clients and was responsible for educating and advising plan sponsors on their fiduciary liability management process.
In 2000, Greg's team moved their practice from Smith Barney to Prudential Securities (a predecessor firm of Wells Fargo Advisors).  As "Director of Retirement Plans", he was responsible for growing the corporate 401(k) plan business for his team.
In 2005, Greg decided to work for MetLife Retirement Plans in New York City.  This opportunity provided him with additional insight and experience from the perspective of the plan provider.  As Managing Director, Greg worked closely with financial advisors to assist them in growing their retirement plan business.  In 2006, Great West Retirement Services acquired MetLife Retirement Plans.  As Regional Sales Director, Greg continued to serve financial advisors with their corporate 401(k) plan business.
In 2009, Greg returned to wealth management by joining Bridgehaven Financial Advisors.  As Vice President and Corporate Retirement Plan Consultant, Greg utilizes his years of industry experience to help plan sponsors with their fiduciary liability management process which includes plan administration, plan design and plan level investment options.
In 2010, Greg was selected to participate in Wells Fargo Advisors' Retirement Plan Advisors Program. This program supports his efforts to assist our clients in addressing legislative and regulatory changes in the retirement plan market. Some of these changes include important fee disclosures and fiduciary responsibilities often overlooked by plan sponsors.